Training to be a Police Dog Handler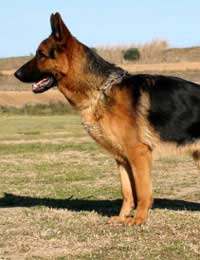 Dogs can be trained for many assistance roles and work with their owners and handlers in many situations, but how do you train to become Police Dog Handler?
The dog
When you think of police dogs the first breed that comes to mind is a German shepherd, this type of police dog is the one you will see most. However, there are many other breeeds that that undertake this arduous work. The Rottweiler, Doberman, and Giant Schnauzer are just three other dogs considered for the job.
Tasks
Dogs are used to undertake many tasks when working with our police forces. These specially trained dogs have the ability to sniff out illegal substances during body searches as well as drug searches in buildings, offices, airports and nightclubs. The detection of explosives is another skill these clever dogs undertake, as well as recovering lost persons and seeking out bodies. Police dogs also carry out work such as; routine patrol, the tracking of offenders, plus work in riot and dangerous situations. The role of the police dog is ever growing as these clever animals prove their worth.
Applying for the job
The job of a police dog handler is sourced from within the force. After an initial application form is processed applicants will be interviewed by a panel of senior officers. A home check will follow to ensure that the officer has room at home, and that it is a suitable environment for a dog. There follows a two week suitability course where officers are assessed as suitable candidates for the job. Application and training processes can differ slightly between police forces.
Entry level
A police dog handler is one of the most sought after jobs within the police force and competition is fierce to get into this unit. Before an officer can apply they have to have been a serving police constable for two years. Most police dog handlers stay in this job until retirement.
Training
Dog and handler will have to attend a three month course at a dog training school where both learn to work together. Training includes obedience, search, tracking and obeying commands. Both will learn to work as a team and have all the necessary skills to work in the police dog unit. Training is ongoing and both dog and handler will attend training days and courses each year to enable dog and handler to remain licensed for the job.
Day to day care
The police dog handler must keep his dog fit, healthy and happy. The officer has to understand canine care as much as any pet owner would. Feeding, grooming, vaccinations and veterinary check ups must be followed and dog and handler must be aware of all bylaws concerning dogs.
The police dog
Dogs who work with the police dog unit are donated by breeders and members of the public with some forces having their own dog breeding unit. Officers as well as volunteers are used as puppy walkers until the dogs are old enough to be assessed as suitable candidates and matched with an officer who they will live with for life. Donated dogs will go through a four week assessment programme to see if they are suitable for work as a police dog. Those who fail are returned to the breeder or owner.
Similar jobs
The Ministry of Defence has a joint services dog school where dogs are trained for the Army and the Air Force. Like dogs working within the police force they are trained in detection and defence work. Dog handlers are trained from within the forces themselves. The Civil Nuclear Constabulary also have a dog unit section who supply protection for civil nuclear licensed sites. This section of the police force has its own training centres and units throughout the UK.
Licensed
Police dogs are licensed and assessed through the Association of Chief Police Officers (ACPO). The Police Dogs Manual of Guidance is provided by the ACPO working group who regulate all working dogs within the UK's police forces.
You might also like...
Hi I am currently studying hnd animal care in order to change career. I am interested in training police dogs. I would like more information on what is required and where you would look for job vacancies as each search is only coming up with police dog handlers not the trainers.
Vicky
- 12-Sep-23 @ 7:01 AM
Hi, Iv always loved working with animals and grow up with animals all my life. completing my level 3 diploma in animals management, a year working in a dog groomers handling all different behaviours and sizes, attended horse riding for 3 years. In my next chapter of life, I would really love to get the opportunities to work and train with k9 -Ellie
Ellie
- 31-Aug-23 @ 4:03 PM
I'm only 12 but I've always wanted to be a dog handerlar since 5 and I am really good with dogs what subjects do I need to do in school to become one ?
Garce
- 1-Jul-23 @ 8:50 AM
How can I check out whether a dog trainer who claims to be a police dog trainer is legitimate? I think I may have been conned and this is big business at the moment. Please help.
Boo
- 3-Mar-22 @ 10:26 AM
How can I check out a dog trainer who claims to train police dogs? This is big business at the moment and I think I may have been conned!
i just want to be a dog handler because i am very good with dogs. i am only 13
I am wanting to become a police dog handler in the future how do I go about it
Calum
- 4-Jul-20 @ 2:06 PM
I looking for Dog handing Couses in the police Faces Can you late me know I looking Training Dog for or be part off Police Faces Olive SW Battersea London Can any one late know if any course come up soon thank you Joanne Cowan Numb 07956-617234
I am looking for Dog handler in Police Force do you Have Course going I f you do can late me know Thank you Joanne
Hi, i am looking to become a trainer for dog handling, i understand that for the met this is done by the officer with the dog, however i am looking to do the step before so training the officer to train the dog, how would i go about this?
I'll be Just over 20 when I finish all my college courses as will be doing level 2 and three animal management and horse management and thinking of becoming a dog handler so I need to do another course on public services ? Many thanks if some one could help
Meagan
- 15-Jul-17 @ 1:01 PM
Bowie - Your Question:
I have applied to be a police officer just to get this job - I am through to the final stage and this will definitely be my career ????
---
Our Response:
We hope you achieve your ambition and get the job you want at the end of it. Good luck.
CareerWithAnimals
- 23-Sep-16 @ 10:37 AM
I have applied to be a police officer just to get this job - I am through to the final stage and this will definitely be my career ????
Bowie
- 22-Sep-16 @ 5:18 AM
I am looking to become a police dog handler
Happy
- 9-Jul-16 @ 4:55 PM
I'm 19 years old I have done a 3 year coruse on public services I walked out with a distinction star i would like to become a dog handler
Smithy
- 30-Jan-16 @ 6:25 PM
Iv done 3 years in college on public services and I done a level 3 degre n got Distinction star looking for a job in dog handerling
Smithy
- 29-Jan-16 @ 9:17 PM
I'm 25yrs old man. I'm interested to work at dog unit.. What can i do that can make me, to work there?. Please help me..
lua lua
- 1-May-15 @ 12:08 PM
@TC - you might be better picking up the phone and talking to people directly, as people tend to let emails drift by. I'm sure someone would be glad of the help!
Hi I don't know if anyone can help but I am looking to do a work based learning from June/July for 4-6 weeks as part of my university course and I am interested in dog training in cambridgshire area? If anyone knows of anyone that would be willing to take me on as I have emailed many and no one gets back to me. Thank you :)
TC
- 28-Feb-15 @ 11:51 AM
im 18 years of age and i live in the uk mansfield area i want to be a dog handler of some kind and i just need help on where i need to go i love animals and my best favorite animal is a dog and i want to work with them please somone help me :)
cookie
- 23-Feb-15 @ 10:13 PM