Become an Equine Veterinary Nurse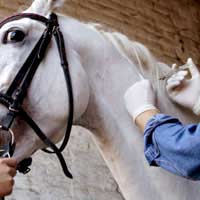 The work of an equine veterinary nurse is necessarily more of a specialist job, compared to that of a small animal veterinary nurse. They deal with all aspects of horse care and the related veterinary procedures.
Entry Requirements
The minimum age to start training at an approved equine training practice is 17 years.To be considered for training, candidates need 5 GCSEs at Grade C or above and subjectsmust include English, Maths and 1 Science (Biology, Physics, Chemistry). Comparable qualifications may be considered for example, NVQ/SVQ at Levels 2 and 3. A background of working with horses is recommended and personal fitness essential.
For people who already hold the Veterinary Nurse qualification, and are listed with the Royal College of Veterinary Surgeons, a fast track/add on is possible; provided they have a minimum of 2 years post-qualification experience of working at a suitable equine practice. Consideration should be given for the possible expenses incurred to cover examination entry fees and courses.
What Does an EVN Do?
Equine Veterinary Nurses (EVNs) have to deal with all aspects of horse care. Once qualified, theymay take on more responsibility but remain under the professional supervision of vets. The student nurses complete routine jobs like mucking out and disinfecting stables, sterilising surgical instruments, feeding and leading horses. They are monitored by senior nurses and appropriately assessor-trained vets.
EVNs assist vets in the preparation of drugs, are permitted to give catheter injections, intra-muscular and subcutaneous injections (with veterinary supervision of quantities). Theyalso care for in-patients, prepare and carry out laboratory work and help the vets insurgery/clinics and theatre. Good communication skills are important for giving feedback onpatients and to assist the smooth running of their teams. Teamwork is essential, particularlywhen everyone is working under pressure for example, in the diagnosis and immediate treatment of emergency cases.
Facilities and Duties
Specialist equine clinics have the facilities to deal with a broad range of conditions on site. A main block of stables is commonly used for general care patients so they have company without the risk of injury to each other.
Isolation areas with stables will be required for infectious, suspected infectious or currently undiagnosed patients. Named members of staff, including a vet, an EVN and a student, per shift, will normally be the only people permitted to enter this area. Each of these will work according to strict isolation procedures.
A separate mare and foal facility is provided to keep mares and foals together during treatment of either or both, to minimise disruption of their close bond and avoid added stress. Brood mares may stay in another area for Artificial Insemination treatment.
Stallions are kept away from other horses at all times.
Preparation boxes are kept empty of bedding and water, to facilitate the preparation of horses for surgery and for ease of disinfection. The operating theatre itself has a special floor-to-ceiling, anti-bacterial coating and houses the heavy-duty surgical equipment needed to manoeuvre and operate on these large patients! Nurses will prepare for, and clear up after, surgery.
Following operations the EVNs monitor patients' in specially padded recovery rooms and keep concise records of each horse. They report their findings to the duty vets and alert them to any significant changes in the patients' condition.
Summary
Work and conditions for EVNs can be physically demanding. They are required to workon a rota that covers night duty and weekends and be prepared to assist vets in a large variety of tasks. Promotional prospects are quite good and a Head Nurse can sometimes command between £23,000 and £27,000.
You might also like...
Hi 'm 14 years old and im currently about to go into grade 10 and starting to choose our new classes. i was wondering what subjects i was needing to apply for to become a equine vetrinarian
Phoebe
- 1-Sep-21 @ 12:52 AM
Hi i'm currently studying year 12 I was told by my school the only way to become an equine vet is to finish year 12 and get an ATAR but I was was just wondering if there is another way to get into equine care another way.
leash
- 10-Feb-20 @ 9:42 PM
i am 12 and when i am older i want to be an equine vetinary nuse because i love horses and i like to make sure they are safe.i have my own horses and i always train on them even when they are not injured. thanks abby eason
abbyeason223
- 11-Sep-19 @ 2:28 PM
Hello I'm looking for advice I'm currently studying level 4 animal biology and science at college and been accepted for NC animal care however I'm stuck I really want a career in equine veterinary I don't know who to turn to foradvice what can I do to get someone to give me a chance and take me on in a working environment as a student any advice or any course related advice would be greatly appreciated
Bonnie
- 11-Jun-19 @ 9:22 PM
at the moment i am 12 years old and when im older i want to own a farm with a cafe and a vets on the farm but i also like to rescue the animals in the garden and dogs and cats on the street that i find abandoned that are potentially injured but at the moment i have no clue how to treat them and i think it would be helpfull for advice for me, if somebody could comment some websites to help me. i am very good with animals andhave 6 snakes 2 guinea pigs 1 hamster 1 dog 1 cat 3 horse's and a parrot. i would apreachiate all of your help.
ganimals
- 30-May-17 @ 9:42 PM
@Becki - you could see if this is something you could do via an apprenticeship. I have also included a link via the British Horse Society
here
which gives you more information regarding the best training path to take. I hope this helps and good luck.
CareerWithAnimals
- 26-Mar-15 @ 11:27 AM
I have 12 GCSEs maths,English and chemistry my grades were B,s,Biology &physics were C's, I have a background with working with horses and have good physical fitness, where do I go to find the vacancies of Equine vetinary nurse as I fel this is what I would really be interested to have as a career with a possibility of continuing training.
Becki
- 23-Mar-15 @ 1:50 PM
@Jules - An equine vet specialises in the wellbeing and care of horses and may also treat and work with other animals, which they will have trained to do during their degree. It is quite a long haul to qualify, you'll need to complete a general veterinary degree (BVetMed degree) at an approved Royal College of Veterinary Surgeons (RCVS) university.You will then have an option to specialise in equine medicine once qualified. Alternatively, veterinary nursing is the supportive care of animals receiving treatment within a veterinary practice. A veterinary nurse (VN) works as a member of the veterinary team, providing expert nursing care for sick animals. Vocational qualifications include a level 3 Diplomas are offered on either a full-time basis or apprenticeship-style alongside a job in veterinary practice. You can download a link Could You Become a Veterinary Nurse via the RCVS
here
. I hope this helps.
CareerWithAnimals
- 19-Nov-14 @ 10:56 AM
Hi I worked with horses for eleven years and always had an interest when the vet was there. Does any one know how to get involved in training to be an equine vet nurse and is there much call for the job once you have trained for it. Thanks Julie
Jules
- 17-Nov-14 @ 9:58 PM
Hello, I want to study to become an equine vet nurse. Id rather take the direct route by doing the NVQs needed and then going to an EVN course. I cant seem to find a course that does this in the north east of england, if you wouldn't mind helping me. Thanks Beth Gallagher
bethgallagher
- 20-Jan-13 @ 2:45 PM
As Senior Instructor at an RDA Centre I am becoming further removed from the actual horses. I would like it to be all about them again, and helping to fix the things that we put wrong.
Tara
- 25-Mar-11 @ 10:18 AM