A Day in the Life of Professional Dog Walker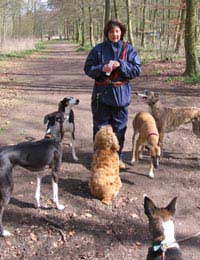 Now in her forth year as a professional dog walker, Sylvia is a person who is always keen to start work! The decision to set up her own business as a dog walker was made after Sylvia had twice been made redundant.
"This gave me the time to consider working for myself and doing something I could really enjoy. I love dogs and enjoy walking, so…"
Having helped out a friend-who already had an established dog walking service-Sylvia realized that this was what she wanted to do.
Rules and Regulations
Although there are no formal qualifications needed to set up in business as a dog walker, it is important that the person, or persons, handling clients' dogs have an understanding of canine body language. A love of dogs and walking is also essential!
Professional dog-walkers must have public liability insurance. Some companies specialize in this type of insurance policy and it is a legal requirement in the UK: understandably so as not all dog-owners are completely honest about their pets' behaviour!
"The worst untruth for me to deal with is when owners say their dog is well socialized and ok with other dogs."
Safety
Accidents can and do happen in any career with animals; but that's no reason to be complacent about safety!
As a precautionary measure, Sylvia takes her new charges for a walk on their own-so that she can assess them-before they are introduced to 'the pack' they'll be walked with. It makes sense to match dogs according to both their physical requirements and temperaments. After all, the service that dog-walkers provide should be enjoyable for the dogs too! (My two dogs love being walked twice a week in one of Sylvia's packs and I'm happy in the knowledge that they are having exercise and fun within their very own select canine gang, under her control.)
The care and control of dogs and the number of dogs walked at any on time are subject to rules and regulations of local councils and the insurance policies required.
How it Works
On average, Sylvia walks 12-16 dogs per day. She is ably helped by a friend, and fellow dog-lover, which means she is allowed to take up to 6 dogs at a time. Some pets may be walked on their own by arrangement with the owners.
The dogs are collected from clients' homes and transported in secure dog crates inside Sylvia's 'Paw Tours' van; this method of transporting the dogs is essential for the safety and comfort of all 'on board'.
Knowledge of locally available safe areas for dog-walkers is an absolute must for the smooth running of this business. Daily walks are planned to suit not only the animals to be exercised, but also the weather! Further necessities include the provision of water and water containers, spare leads, collars, poo bags, walking boots, wet weather gear and first aid kits for both dogs and humans. Sylvia always has a mobile phone with her.
The Dogs and Paperwork
On Sylvia's first visit, simply to meet my dogs at home, she spent a while observing them and writing up their details: ages, breed, our regular walking habits, the dogs immunization records (including kennel cough) pet insurance, identity discs, and compiling records of the dogs' general health and habits. She took the contact details of their veterinary surgeon in case of emergencies as well as my telephone numbers.
With the nitty gritty done, I asked Sylvia about her experiences as a professional dog walker.
"I had one dog that didn't like the rain and he would run and hide under the van to keep dry. I've been dragged through the mud a few times and once fell down a rabbit hole while exercising…"
"I do get attached to all the dogs and it's sad when people move away or their circumstances change and they no longer need to use my services."
"I enjoy watching the dogs as they run about and play together and the peaceful drive home when they're all happy and tired! The thing I least like is getting caught in a sudden downpour without having my wet-weather gear on!"
You might also like...
Hello, such a great post, I walk dogs from individual households its just safer that way as I have that very few dogs are actually superb leash trained.
johnsmith_pd
- 3-Aug-18 @ 7:09 AM