Pet Friendly Holiday Services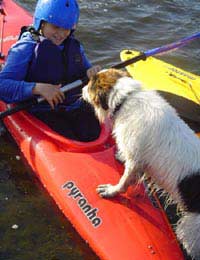 How many times have you spent a well-earned break in beautiful scenery and thought 'The dogs would have loved this'? It does seem a bit daft to pick the perfect holiday cottage-with access to wonderful walks-and pay for your dogs to be in kennels at the same time! That has all changed…
There are now many choices for people who want to include their pets in family holidays. With new travel schemes for pets it is also much easier to take your pets abroad with you, too (DEFRA Pet Travel Scheme.)
Although many holidays state that pets are welcome most of them refer to dogs. So, if you turn up with the family pet llama, don't assume that it will be similarly welcomed! Always check, not only the type of pets allowed but also the number, with the renting agent/landlord/proprietor first and read agreements carefully. Two is often the maximum number permitted per family; which is tough if you have three or more dogs!
Choosing a Pet Friendly Holiday
Where to start-given the choices that are available? Whether you're a single person with one prized pooch, or a family with two or more pets, there is definitely at least one venue to appeal.
In the UK alone pet-friendly holidays vary considerably, and, as with all holidays, it depends how much you want to spend and what you want to do!
From the plushest of hotels, with grooming parlours and pools, to family campsites and outdoor adventures, from self-contained cottages to boating on the Broads: there's a tailor-made pet friendly holiday somewhere to float your boat!
Tried and Tested
We have had some of the best family holidays with our Gordon Setter and Collie x dogs here in the UK. A static caravan in Wales was home for two weeks and the walks that started right outside our door were wonderful. This type of holiday allows so much freedom of choice for kids, dogs and parents! We didn't once visit the campsite restaurant or entertainment area because, by the evening, we'd had such a great time doing what we wanted to do all day, chilling out 'at home' was all we (and the dogs) had the energy for!
Another very successful pet-friendly holiday was spent touring and staying at dog-friendly B&Bs, all booked in advance. This was really interesting (especially for researching the kids' school projects) but involved more travelling, packing and unpacking, which unsettled the dogs a little. Would do it again, but next time stay two or three nights in one place at a time before moving on…
Pets' Behaviour
This is where it can all go horribly wrong! Ask yourself the following questions and be truthful with your answers:
Is your dog obedient?
Is your dog properly house-trained?
Are you a responsible dog-owner?
Would you trust your dog to behave 100% in new situations with strangers and other dogs?
Is your dog micro-chipped, up-to-date with immunisations/worming/flea treatment and all other essentials?
If the answer to any of these is no, forget it! Not only would your holiday be stressful (for everyone concerned) but it would also be unfair on everyone, including your pets.
Checklist
Before packing Fido's beach ball, food, bowls and other necessities, plan ahead. Note the contact details for veterinary practices near to where you'll be staying, in case of emergency. Check all booking and pet insurance plans; even well behaved dogs can have the odd accident! If travelling by car plan breaks where everyone can safely stretch their legs and have refreshments, and don't forget to keep some water handy for the dogs en route.
Identity tags, poop scoops and bags are essentials while on holiday: as they are on any other day and, easily overlooked-where do your dogs usually sleep? A little piece of home will help them to recognise that wherever you are is home!
You might also like...