Animal Athletes & Sports Injuries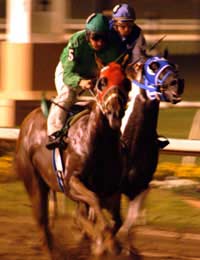 Any animal that needs to survive by fending for itself in the wild could be considered an athlete and injury can mean the difference between life and death. Domestic or captive animals, whose natural instincts we have channelled to work for us include, Racehorses, 3-Day Event horses, Show Jumpers, Greyhounds, Sheepdogs, Sled dogs and Gun dogs. They all come under the category of animal athletes because they are trained to perform regular, physical, work that requires a high level of fitness and specialisation to succeed.
All athletes are likely to suffer injury at some stage in their career. Preparation, including training, exercise and diet are all important to minimise the risks of injury and fitness levels are carefully maintained, but unforeseen events happen.
What Can Go Wrong?
Consider the speeds reached by galloping racehorses (around 40 mph) the weight they carry and the condition of the ground they race on. Age, experience and previous injury are further relevant issues. Racing animals are subjected to enormous forces. A horse's legs are comparatively thin bone, muscle, ligaments and tendons, as well as their feet, take a lot of strain and stress. Fractures of the bones can even occur by simply walking on a hard surface! Jumping, galloping and turning increase the likelihood of injury, particularly when competing for space with other animals that may kick out, tread on, or even push against each other.
Greyhounds can run at speeds of up to around 45 mph in just a few strides, making them the fastest dogs in the world. These canine athletes are bred for speed and performance in a highly commercialised industry.
Common sports injuries of horses and dogs include:
Muscle Injuries - sprained, ruptured and torn
Ligament - as above
Tendon - as above
Joint and bone problems
Kidney problems - can be caused by too great a demand on unfit animals.
Animal athletes can be worth thousands, even hundreds of thousands, of pounds. Most are insured to cover the cost of veterinary fees that may occur through injury, disease, or loss of use. Apart from the pain and distress injury can cause the animal, it can also affect their monetary value and income.<\p>
Injury Types and Treatments
As sporting animals gain fitness, voluntary muscle bulk becomes bigger and stronger. If the forces placed upon a single muscle, or group of muscles, is too great, muscle fibres can pull apart. This can result in bleeding, swelling and bruising that causes pain and is known as a stage one injury. The second stage occurs if the muscle fibres tear apart. Stage three is when the fibres tear apart and the surrounding membrane, or muscle sheath, also tears. If the body of the muscle tears apart, it becomes a more serious, stage four, injury.
Treatment for these types of injury, depending on their severity, may include massage, ultrasound, or electromagnetic treatment. Torn muscles generally require rest or even surgical repair. For a torn tendon injury, rest and one of the therapies mentioned may be recommended, but a ruptured tendon needs surgical intervention.
Healthy joints are essential to achieve and maintain physical fitness. If the bones, cartilage and synovial fluid of joints are not kept in optimum condition, the constant wear and tear on them can cause breakdown, fracture and dislocation.
Horses and dogs that are not completely fit may be more susceptible to a metabolic disorder that is caused by muscle breakdown. Even an extended exercise session following a day off may cause this problem. The result is high levels of muscle protein in the bloodstream that the kidneys cannot efficiently filter, causing pain and stiffness in the lower back region (known as 'azoturia' or 'tying up' in horses.) Muscle damage may take 3 - 4 weeks to repair.
Injury Clinics
There are several hydrotherapy clinics specifically designed for injured dogs and horses. Hot spas, dehumidifiers and physiotherapy are other specialist treatments available to the equine or canine athlete.
Life After Injury
The injuries incurred by some horses and dogs may be too great to repair and the decision to euthanize the animal made to avoid further suffering. Any serious injury has implications on an animal's commercial viability, but, the advances in surgery and rehabilitation for sports injuries can offer far greater cause for optimism than before.
There are retirement homes for greyhounds and racehorses and many of them are re-homed as pets/companions. Horses that have not had serious injuries but are not fit enough to resume full work may carry on as riding horses. Mares and bitches may be used for breeding purposes once the decision has been made to withdraw them from racing or other sports. Similarly, stallions and entire dogs may retire to stud.
Animal athletes, like human athletes, have a limited time in sport. Their bodies need to be fit and well maintained!
You might also like...