Work in Fieldwork & Estate Maintenance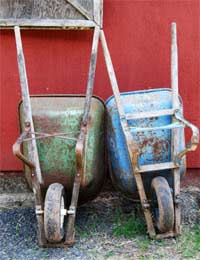 Fieldwork & Estate Maintenance
It could be easy to overlook the importance of the work done by those responsible for field and general maintenance of estates where animals are kept; but these jobs are crucial to the health and safety of livestock. (As well as that of the people who work with them.)
What is Fieldwork?
Fieldwork loosely covers everything from hanging a gate to harvesting hundreds of acres! Where animals live outside for all or part of the year, needs such as the provision of fresh water and secure boundaries have to be met. Ditches for drainage, bridges and stiles may have to be built. Field shelters, pens or keeps and other temporary structures may have to be constructed, depending on the type of livestock kept. Local wildlife must be considered when carrying out this type of work, as must public footpaths and other rights of way.
There are different choices of boundaries, depending on cost, availability of local materials (stone, for example) type of livestock to be kept, personal preference and regional customs. Plain wire fencing is used a considerable amount but the correct use of wire type needs to be researched and tension tools and maintenance investigated. Traditional post and rail remains an attractive (but costly) option that lasts for years and looks good. Electric fencing and tape is versatile as it can be used and moved as needed for various different species of livestock.
Another thing that the field worker will investigate is soil type and site problems, like wet areas (where wooden posts rot) slopes (where determined 4-legged escape artists' may find a launch pad) rocky areas (difficult to successfully dig holes for fence posts)and dips in the ground (limbo dancing escapees!) Cattle grids in roads or driveways deter animals from exploring the gap and gate-crashing into neighbouring fields, or towns.
Existing hedges and trees need regular checking for poisonous plants that livestock may be tempted to eat and areas that could be forced, but, along with rivers, they do a good job, naturally.
Resident Wildlife
Field work and estate maintenance includes a responsibility to local wildlife, too. Badger gates are simple to make (like a cat-flap through a netting fence) and very important to the wellbeing of badgers, whose established runs may have been in place for generations. Nesting boxes for barn owls, tawny owls and little owls can be made and erected either in a building, on a tree or a pole, whichever is most suitable for a situation. Local wildlife trusts offer advice on these projects.
There may even be the opportunity to build hides for keen birdwatchers and photographers if the estate landscape lends itself to that pursuit.
Routine Tasks
A lot of this type of work is seasonal. Apart from lambing, calving, shearing, worming and other specific tasks, some of the big country estates hold organised shoots and those that have rivers on their property often hold salmon or trout fishing events. Field workers on these estates work as part of an extended team that may include an estate manager, gamekeeper, herdsman or stockman, kennel-man, gillies, beaters and others. The pursuit of country sports, as a hobby or holiday, provides an income for estates that are able to offer the facilities and employment for locals.
Summary
Working in the fields can be gruelling. Protective clothing, against the elements as much as anything else, is needed. Experience and a qualification in agricultural machinery (and a clean driving licence) is desirable to be able to tackle jobs like harrowing and topping fields and transporting materials by tractor. The work is varied and rewarding for the physically fit who have an interest in livestock and a love of the countryside. Field workers have to be able to turn their hand to a multitude of physical tasks and be prepared to work alone some of the time in beautiful but isolated locations.
You might also like...