Work for a Pet Supplier or Feed Merchant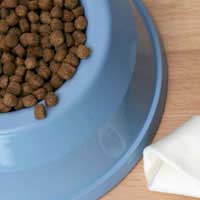 This work can involve a lot of bending and lifting so personal physical fitness is essential for most people. There may be opportunities for those who wish to concentrate on the administrative side of the work only, though, as this business requires efficient record-keeping, taking and making of telephone orders, wages and numerous other clerical tasks to be skilfully undertaken. Knowledge of animal husbandry and a good head for figures is necessary!
What are Pet Suppliers?
Domestic pets have different requirements for similar functions. A pet mouse, for example, needs less living space and smaller feed/water bowls than a Great Dane and does not need to be taken for walks! All animals need to be provided with shelter, food and water but in different ways and quantities. Pet supply shops aim to stock the broadest range of products for the broadest range of pets (and wildlife) according to the space available. It helps to have an interest in animals and experience of general pet care is obviously useful.
Within each section of pet supplies there are huge variations of breeds, groups within breeds and the associated care and equipment required for all types. To cater for the needs of the smallest lap dog to the super fit working dog takes a lot of planning and research. Staff should know their products and be able to advise customers on suitable choices of basic materials or, as part of a team, know who to ask! Most of the larger stores have staff with specialist knowledge in the appropriate department, for example, tropical fish, caged birds, reptiles, rodents etc. Animal bedding, books, toys, clothing, all these may be found under the same roof.
What Does a Feed Merchant Do?
Feed merchants supply bulk quantities of goods for private and retail trade, which they can deliver locally and nationally. They also cater for individual demand of customers who call in to the store for smaller purchases. They stock a selection of additional, everyday use items, but tend to be large premises with warehouse-type layouts.
What Does a Feed Merchant Supply?
Feed merchants keep up to date with current feeding trends and the provision of extras, like feed supplements, natural remedies, wormers and various non-prescription treatments, plus feeding utensils and measures.
Among the main provisions kept are:
Assorted bagged dried feed
Loose dried feed
Frozen foodstuffs
Tinned food
A selection of animal bedding
Grooming and exercise products
Cleaning and disinfecting supplies.
Fork lift trucks and ladders are needed to reach and move heavy items of stock. Rodents (and pigeons) can be a problem on these types of premises, due to the inadvertent supply of food that comes from broken feed sacks and the large amount of nesting material that they ransack.
Additional Services
As well as general provisions for animals, there may be contracts for additional services available to customers and their pets. Identity disc engraving may be done on the premises, classes for puppies and older dogs may be run by a member of staff, animal physiotherapists and other specialists may have links with the business. Rural businesses may offer group discounts on services like freeze-branding if booked through them. Some of the larger stores even run a section for second hand goods and a part exchange service to keep their clients loyalty. Word of mouth and local knowledge can create added income.
Summary
Working in pet supplies or feed merchants can be fun if you like being part of a team, have an interest in animal care and don't mind getting dusty occasionally! No qualifications are necessary to start in this work (pay reflects this). It is important that employees are willing to learn about the products they handle and are versatile. Overalls or aprons are usually provided, but suitable footwear is needed. This work can offer varied prospects to interested parties.
You might also like...