Work as a Flying Groom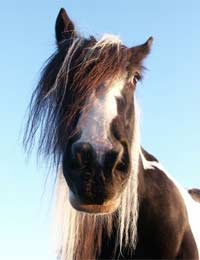 For equestrian professionals who also like to travel, this can be the ideal job!
What is a Flying Groom?
Flying grooms are qualified and experienced equestrian professionals who work as part of a highly specialised team in the business of air transport for horses. They may travel all over the world with top international equines.
Why are HorsesTransported by Aeroplane?
The main reasons for air transportation of horses are to import/export sports horses, like racehorses that are based in UK but qualify to run in other countries. Thoroughbred mares are sometimes flown to selected studs for mating with a particular stallion. Air transport is often the only practical way of transporting thoroughbred horses bought in other parts of this country, or from abroad.
The Olympic games is an example of the accepted use of aeroplanes for transporting top equine athletes from around the world!
What Does a Flying Groom Do?
The professional flying groom takes over from the horse's regular groom to travel with the horse. They are caring and experienced in handling nervous or distressed equine travellers. Flying grooms have veterinary training to deal with situations and emergencies specific to air travel with horses. Their calm, knowledgeable, handling of even the most nervous flyers helps the horse to have a journey which is both comfortable and stress-free. Although the majority of top sports horses are seasoned travellers, there is always a first time! The strange noises, smells and sensations of being at an airport could be frightening for any animal, which is why it's so important to have professional grooms who are used to dealing with the unusual surroundings.
Once all the paperwork has been approved the horses are weighed, to work out where and how the horses should be loaded onto the aircraft. In preparation for travelling, the horses wear leg protection in the form of travelling boots. They have a strong leather head collar on with two ropes attached. A sweat rug may also be needed. The flying groom will lead the horse, either into a special jet stall that is then moved by machine onto the aeroplane, or, up a long ramp direct to pre-secured stalls on board the aircraft. The flying groom stays with the horses throughout and sits close by for the entire flight to keep the horse calm and monitor its condition.
The grooms perform 'cabin crew' duties of serving drinks and food during flights! Horses are usually fed hay while travelling, not hard feed, to avoid the risk of colic. They are regularly given water. Animals, like people, are prone to dehydration when flying because, although the cabin temperature is kept constant, it is air-conditioned.
Horses may travel in single stalls (club class!) doubles, trebles or more (economy) depending on their size, value and temperament. Pre-flight checks are made by aircrew and equine team. It is essential that all the horse stalls are securely in place and the animals are settled.
On some horse charter flights there may be as many as 60 horses travelling. In these cases, or when an owner wishes it, an equine veterinary surgeon will travel with the flying grooms.
How to Become a Flying Groom
Equine qualifications are necessary for this work, to prove that the groom has attained a high level of proficiency in horse care and possesses dedication. It is advisable (maybe necessary) to be registered as a flying groom with the Animal Transport Association and DEFRA. Physical fitness is absolutely crucial to this role. The responsibility of caring for millions of pounds worth of bloodstock needs to be taken seriously.
Summary
Work as a flying groom offers job satisfaction and the opportunity to travel worldwide with some of the crème de la crème of equestrianism. Experiences that may be gained are invaluable to the professional groom and committed horse lover.
You might also like...
Hi, I have over 30 years experience with difficult horses, I am currently a stalls handler leading race horses in to the starting gates. Any information into how to become a flying groom will be greatly appreciated Thank you x
Fe
- 22-Aug-23 @ 11:58 PM
I am interested in a flying groom position. I have over 20 years of experience with horses. I am a licensed veterinarian technician and equine massage therapist. Thank you
Cassie
- 6-Jul-23 @ 3:54 AM
I have 26 years experience, flying bovines, porcines, caprines and day old chicks based in Ireland. I have flown with KLM Combi 747 as a groom/customer. Willing to relocate for employment if required.
Dave
- 11-May-23 @ 9:52 AM
Hi I am a horse therapist , FEI (PET) decades of equine experience and would like to know I could join the team. Thank you in advance Best regards Sandrine
Sandrine
- 26-Aug-22 @ 1:21 PM
Have more the 18 years experience with thoroughbred horses an more, like to join the team thank you.
Chuy
- 12-Aug-20 @ 9:43 PM
I have Owned and run my own Boarding, lessons and training facility. 35 years. World champion horses, youth and amateur teams. I have flown as a groom with KLM before. Looking for employment.
Mary
- 1-Jul-20 @ 1:40 AM
Hy, I have EQASA qualifications module 1-3, I have 3 years experience of working with horses. I've completed my Equine reproduction course as well as Stud management course. I just wanted to know how do we apply for flying groom?
Ponge
- 17-Mar-20 @ 5:59 PM
Over 30 years experience with racing horses , have traveled on a plane twice with them , I'm still working in racing as a traveling head girl but would like to ask how to qualify as a flying grooms job please
Trev
- 3-Jun-19 @ 11:20 AM
Where can I apply for flying groom jobs. I have experienced flying with horses and the right qualifications. Thanks :-)
Mal
- 25-Jan-19 @ 10:22 PM
I have absolutely no horse experienceand scared to death to fly I would like to try this job to get over my fears and get to know horses get back at me and let me know when I start
Blackbart
- 19-Feb-18 @ 6:59 AM
Currently work in transporting horses all over Europe by road and was interested in air freight have bred my own horses for 30 years so have an excellent knowledge in horse welfare so should you have availability please feel free to contact me
Dusty
- 3-Jan-18 @ 9:03 PM
Hi, I am 22 years old and I have worked with horses for many years. My father is a specialised remedial farrier and my mother was an instructor so I have had plenty of experience with horses. I have just finished my three years working on a hunting yard. Two years working as groom and my final year I was promoted to stud groom. Then I left to travel around Australia for six months. When I was sixteen I left school to study my Level two horse care for one year and then Level 3 Equine Business Managment for two years at Bishop Burton college qualifying at a distinction* for both courses. Could you please get back to me in regards to what else I would need to get further in to the flying groom industry. Many thanks Giorgia
Katie - Your Question:
Hi I'm looking for information on how to get into the career of an equine flight attendant. For example id like to know, what experience is needed? How to apply? Any qaulifications needed. Etc Thanks
---
Our Response:
As specified in the article, one route is to study to be a groom in the first instance, please see National Careers link
here
. In order to become an equine flight attendent you would have to have a minimum of three years' full-time experience with horses, plus you will have to have experience of accompanying horses during flights. You would also have to have experience of being able to conduct minor emergency treatment on the horse (s) you are accompanying. I suggest you speak to a careers adviser who will guide you on the most efficient route in to this career.
CareerWithAnimals
- 2-Jun-16 @ 11:03 AM
Hi I'm looking for information on how to get into the career of an equine flight attendant. For example id like to know, what experience is needed? How to apply? Any qaulifications needed. Etc Thanks
Katie
- 1-Jun-16 @ 2:07 PM
Ditto. Years of experience transporting anything from humble family ponies to polo ponies and racehorse and TB broodmares worth thousands of pounds. Would be very interested in how you find out when Flying grooms positions become available. Is there some kind of register, or do you just keep checking into all the International Hauliers sites? Thank you! :0
Jo
- 17-May-16 @ 11:20 AM
Hello please can someone contact me on how to become a trainee flying groom with horses.I am very interested in a position if one comes up. I have experience in transporting horses for 14 years in the uk an some of Europe. look forward to hearing from someone soon many thanks graham.
Graza
- 17-Nov-15 @ 6:13 PM
Hello I am 44 years of age an I am interested in becoming a flying groom. I transport horses for a living. I have been told you have to learn the safety rules on the aircrafts. I have transported horses for 14 years race horses polo poneys an some horse rescue jobs. I have a clean class one licence plus full cpc an digi card. I look forward to hearing from you soon.
Graza
- 11-Nov-15 @ 6:50 PM
Hello. I am 51 years of age and have worked most of my life with both dressage and show jumping horses so i know quite a bit about their behavior. Now just seen a article in a magasine of John McGregor and would be very interested to find out more about how to go on about becoming a flying groom. Please give me some information. Gratefully Matti.
mazaa
- 31-Jan-15 @ 9:38 AM
Does anyone know exactly what qualifications are required for this job? Would love to work towards this as a career! X
tazzybee
- 22-Nov-13 @ 5:12 PM