Work with Animals in Airports & Sea Ports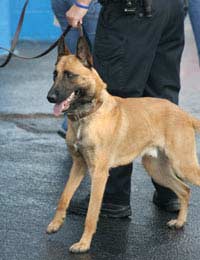 As we go about our business in airports and seaports, it may not even occur to us that there are animals doing the same. Behind the scenes there are large numbers of livestock being processed and pet animals being checked. There are also sniffer dogs, police dogs and guard dogs on duty.
Who Goes Where?
Not all airports and seaports have the facilities to accommodate animals but those that do may be able to offer careers that are slightly out of the ordinary.
For owners who are taking their pets abroad on holiday with them, bookings will need to be done well in advance. The pets must have all appropriate documents and immunisation records.Foot passengers on ferries may have to take their pet on board in a container in which the animalmay have to stay during the journey.
If travelling by ferry in a vehicle, the loading officials for the ferry company should be informed of vehicles that contain living animals, to guide owners to suitable positions on the car decks. Access policy should be explained to people travelling with pets, but, unless the journey is more than two hours long, owners are not usually permitted to visit their animals during sailing. Information desk staff can advise owners and may be able to grant permission for them to visit their animals during the journey if necessary. For very long journeys pet animals may need to be in special containers in a certain area of the vessel. In these circumstances they should give information about visiting the animals while en route.
The Channel Tunnel journey with pets is much simpler, it stays with the owner in their vehicle. (It may be necessary to transport smaller dogs or cats in containers inside the vehicle.)
For air travel, airlines can offer advice about pets that are allowed to fly and how they should beconfined; normally pets are kept in the aircraft hold. Most airlines specify that no puppies or kittens less than 8 weeks old are allowed to fly. There may be restrictions on breeds of dogs that are permitted on board and suckling female animals (with young) are not permitted. International Air Transport Association Live Animals Regulations must also be met. Sniffer dogs may be working alongside airlines to detect hidden live animals.
Work in quarantine kennels is covered in another article on this website. In brief, to bring animals into the UK import licences are needed and in some cases, appropriate Customs conditions met. Whenever animals are being moved between countries there is a strong presence of qualified skilled and experienced individuals and teams in the background, to ease the journey for them.
Livestock Transportation
Random checks by governmental animal welfare teams are made on vehicles that carry liveanimals for export. Particular concern has been raised about allegations of the live export of ponies for human consumption abroad, prompting concentrated efforts around the dates of pony sales in the UK.
Farm livestock is exported through named ports, either on animal transporter vehicles or vessels that are designed to carry livestock in pens. Officials may travel on these vessels to check the animals welfare and condition throughout the journey. Others may check the transporters paperwork at any time, including inspection of the travel log and animal transport certificates.
Summary
Sniffer dogs and police dogs may be seen patrolling our seaports and airports - that means work. Guard dogs are often on duty away from the main hub; another type of work. Cattle, sheep and other farm animals are being transported by ferry - there are numerous jobs in this industry. In the hold of aeroplanes there may be pet dogs and pedigree dog imports/exports for breeding; each one generating work. Animals in quarantine en route to another country create work for several different professionals. Sports horses on charter planes - more work! For every animal that travels, there are several people in employment. Vets, RSPCA Officers, Police and Customs, quarantine workers, farmers, dog breeders, administrative personnel, pilots, ship captains, flying grooms, drivers... the list is endless!
You might also like...