Working on a Sheep Farm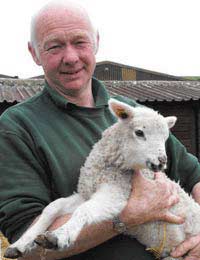 With 47 years experience of working on sheep farms, Terry Wigmore certainly knows a thing or two about sheep!The grandson of a traditional shepherd, Terry's professional shepherding career began when he left school aged 15.
Terry did four years of general farm training but had spent much of his youth helping at a local farm during the busiest periods of lambing and shearing and knew that he wanted to follow in his grandfather's footsteps.
"It was usual for a shepherd to care for flocks of around 200 sheep at this time, so when I started a job as under-shepherd for 1000 sheep, a friend said I wouldn't cope."
Terry did more than cope; he later became Head Shepherd of 1200 sheep with a lambing success rate of 193% (in 28 days!) and set up a flock of 1000 at Blenheim Palace. His success prompted entry to 'Shepherd of the Year' competition in which he drew first.Working on a sheep farm is an all-year-round position that includes all weathers and all jobs.
Daily Routine (during lambing season of March/April)
06:30 am Lambs that have been born overnight are brought in to pens with their mothers. Interestingly, lambs are usually born before midnight or after 05:00 as the ewes give birth on a rising tide.
07:30 am First bottle feeds are given to lambs not fed by their mothers-this is repeated at four- hourly intervals.
08:30 am First concentrate feed is given where appropriate.
Mucking out the lambing sheds or pens, topping up hay racks and providing fresh drinking water are all part of the daily routine. The majority of lambs are castrated, ear-tagged and tail-docked before they are one week old. Imagine all these jobs when a flock of 1000 ewes give birth-within a few days of each other-some with multiple births...
Newborn lambs are penned with their mothers so that each family group has its own space in which to bond. Terry then moves them to 'mothering pens' with other similar groups to encourage the lamb/ewe recognition in a crowd; this is vital for the lambs' survival. These groups are kept in mothering pens for about a week before being moved into nearby fields.
17:30 Further feed of concentrates
19:30 Terry goes home for his own feed! He then carries out the necessary administration tasks.
22:00 Final bottle feed of the day is given, any more newborns are brought in with their mothers and all the penned animals are checked that they are secure from predators, have sufficient water and hay, show no signs of illness, stress or injury and are tucked up in bed, safe and sound for the night (no doubt counting people as they doze off...)
During lambing time, Terry finishes between 23:00 and 01:00 depending on the situation.
Seasonal Jobs
On top of all the daily and weekly husbandry chores, there are different seasonal tasks to be carried out, too. These include worming, providing blue-tongue vaccinations and protection against blow-fly, along with veterinary footbaths that help prevent foot-rot. Then there are the time-consuming piles of paperwork to be done too...
During August the lambs are weaned from their mothers.
Sheep Shearing -one of the two busiest times of year on sheep farms.
Autumn Sales-selected animals are bought and sold at market.
September/October-Flushing takes place. Ewes are moved to rich pasture about two weeks before being mated as the quality of grazing influences fertility. During flushing ewes gain weight and are therefore more likely to maintain top condition throughout gestation.
October/November-Tupping takes place (when the ram, or 'tup' as it is referred to, is turned out with ewes to mate.)
The ewes' five-month pregnancy leads back into March and the whole cycle starts again.
To help dispel the myth that sheep are stupid creatures, Terry told me about one of his sponsored lambs. "When she was with her mother in the pen closest to the car park, this lamb recognised the sound of her sponsor's car engine as it approached and would leap about bleating with excitement. Now she's older she's further away on the farm but always knows when her sponsor is here and reacts like an over-excited child at the thought of all those treats and more devoted attention!"
Apparently, sheep can recognise up to 50 human faces and remember them for as long as two years. Terry should know; with 55 different types of sheep thriving there, his sheep centre has the largest collection of sheep breeds in the world and is a big hit with the public.
You might also like...
Solicito empleo como cuidador de ovejas en una granja en Londres Entiendo muy poco ingles
elsa
- 22-Apr-21 @ 1:40 PM