Artificial Insemination and Breeding Animals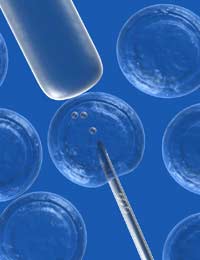 Animals in fields, doing what comes naturally, is becoming a less frequent sight. With selective breeding and frozen semen available, the whole process of livestock reproduction has changed dramatically; from natural mating to scientifically planned breeding.
What is Artificial Insemination?
Artificial insemination is used instead of natural mating for reproduction purposes. This is when a male animal, for example, a bull, is kept with a herd of cows and 'covers' (copulates with) them when they are ready to be mated (in oestrus) so the bull's semen fertilises the cow's eggs to produce calves. Artificial insemination is the process (performed by vets) of injecting the bull's semen into the cow's cervix or uterus when she is in oestrus. Fertilisation can take place away from the bull and the two animals do not even meet!
The bull's semen is collected with the use of a 'dummy' cow that smells like a normal cow in oestrus, or by using a real cow, but the penis of the bull is inserted into an artificial vagina. The bull 'covers' the cow and his semen is collected through the synthetic vagina and stored accordingly.
In a normal mating, a bull produces about 500 times the amount of semen needed to enable the cow to conceive. With AI semen can be diluted and used fresh, chilled or frozen. The addition of glycerol to the diluted sperm allows it to be frozen for years; without losing its fertility. In commercial practice the sperm may be diluted 20+ times. It is then stored in plastic tubes (called straws) for future use.
Why Use Artificial Insemination?
The use of artificial insemination promotes the improvement of livestock by using the sperm of the best males of the species, on a greater population of females, than would naturally occur. As a conservation tool, artificial insemination can be very useful for breeds at risk. The ability to freeze semen also helps to ensure the survival of rare gene pools, for example endangered species.
Other advantages include: the fact that female animals do not have to be transported to stud for mating because the sperm is delivered to the breeder; diseases are less likely to be spread and genetic mutations are not passed on because only the sperm of healthy, stringently tested, male animals are used; injuries that may sometimes occur during natural mating (biting, kicking, crushing) do not happen when AI is used; farmers or breeders in remote places and foreign countries can improve their stock.
The extra work, expense and responsibility of keeping a bull or stallion on site for breeding purposes is no longer necessary because breeders can choose the sire for their cows or mares young without having to own him.
Which Animals can Artificial Insemination be Used On?
Artificial insemination is mainly used on dairy cows, beef cattle, sheep, pigs, goats, horses, buffalo, camelids and dogs. Sorry, no budgerigars need apply.
Selection of Male Animals for Stud
Young bulls must be approved by veterinarian and governmental bodies to be used in a strictly limited number of test inseminations at artificial insemination centres. This is so the progeny of each bull can be assessed. The bulls are then 'laid off' for some time until the milk-production records of 40-50 of their daughters can be analysed. These results indicate the bull's breeding value. In exceptional circumstances, where a young bull is believed to have highly superior genes, several thousand straws of his sperm may be collected at an early stage, in case he dies before test results are established.
Stallions are selected for use in AI through similar stringent testing.
Summary
The use of artificial insemination enables animal breeders to select top bloodlines for the improvement of their stock. Specialist AI centres are run under strict regulations and by qualified veterinarians, along with veterinary nurses and students. Stockmen, herdsmen and stallion men, who have done the appropriate training may carry out the instrumental procedures required on approved cows, mares, sows, ewes and so on, whichever animal species they breed.
The work requires a variety of attributes; most of all a sense of humour!
You might also like...
I wish I could learn more about (AI) I always wanna become one of artificial inseminators , I wanna learn a lot about this topic and breeding
lamarck
- 22-Feb-17 @ 9:16 AM
i wish toget moreon this topic
budget
- 8-May-15 @ 3:57 AM
i am sri lanka animal breeding officer
pissa
- 15-Aug-14 @ 5:08 AM
In a personal opinion, if artificial insemination did not exist what else could be done to help the animals reproduce more? which other methods are there to choose from?
kiddiefiddler
- 15-May-14 @ 12:40 PM