What is Animal Assisted Therapy?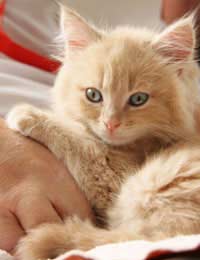 Referred to as AAT, Animal Assisted Therapy is used in numerous health care facilities as well as other institutions. Animals have been a part of humans' lives for centuries and this, relatively new role has made a considerable difference to the lives of many people of all ages and needs.
What Sort of Animal?
Horses, dogs, cats, rabbits, lizards, even dolphins and elephants have been employed in this work. The main thing is that, whatever species is used, each individual animal must have the right temperament and possess specific characteristics necessary for the job. (It makes sense that more dogs and cats are involved in this form of therapy than any other species, because they're more widely recognised and accessible than dolphins or elephants...)
How Does it Work?
The benefits for people are many. Animals in assisted therapy help different people in different ways, according to their needs. All the clients who receive this therapy may benefit from the calming effect that animals have on them. Just stroking a cat or dog regularly may lower the person's blood pressure and help to alleviate depression. Improvements in people's emotional well being, help with behavioural problems and self-esteem and reduced anxiety or loneliness have been reported.
The 'petting pets' are selected very carefully. It is essential that they have a calm and friendly disposition and are obedient, gentle, animals that enjoy being with people and like to be stroked and fussed.
Occupational therapists are among the medical professionals who run the groups (often manned by volunteers with their own dogs) that visit the patient with the animals. These are usually made on a regular day/time to ensure continuity and establish routine. This is very important as these visits may be the highlight of the week for some clients. The visits may take place as one-to-one therapy or in groups. Simply getting involved in this sort of group activity is a major step for some. It can motivate them to interact more with other people by providing a shared experience and something of particular interest to look forward to and talk about.
Animal assisted therapy encourages the person being visited to adopt a caring attitude, a sense of responsibility towards the pet and encourages them to establish routines. These are motivational benefits. The physical benefits may also include improvements to fine motor skills. For example, if the client knows they will be allowed to brush the dog after a series of actions, that becomes their goal and makes it easier (and worthwhile)to remember the steps needed to reach that goal.
Step 1 could be to greet the dog.
Step 2 stroke the dog.
Step 3 put lead on dog.
Step 4 brush dog!
To help improve the person's balance when standing, the dog may be placed up on a grooming table. Likewise, a wheelchair user may improve their manoeuvring skills by positioning their wheelchair closer to the dog they want to stroke. Confidence building exercises such as these, without any pressure or deliberate structure, help considerably.
Equine Assisted Therapy
Therapy with horses is powerful stuff too. Interaction with the horse may help clients who have addictions or relationship difficulties, amongst other things. Horses empathy and ability to read our body language (without being fooled) can work wonders for confidence and self-esteem. Therapy with horses can help people to become more trusting and communicate with others better. It can also help them to recognise where their negative behaviour may be affecting other people's responses to them.
This type of help may be found on residential course only, due to the practicalities involved!
Riding for the Disabled is an extremely worthwhile form of equine therapy. Horses and ponies are selected for their calm reliable natures and matched with clients of different heights, weights and difficulties. Volunteers assist the qualified instructor as group activities and one-to-one exercises are performed. This is always well received and is a great confidence builder as well as being a highly successful 'route opener' for communication.
Summary
Animals live in the moment, which gives hope for the future. Animal assisted therapy further strengthens the bonds and understanding between the species, based on trust and empathy and they're great fun to be with!
You might also like...
How to perform therapy on turtles? Can it be done independently at home?
adm
- 25-Oct-23 @ 9:56 AM
Hi Gail How are you? This is Carole from West Notts just looking for a new career and found you on this website. Did you get the information you required? Would love to hear from you. Kind regards Carole
Cazza
- 2-Jan-15 @ 6:22 PM
Hi I am a forensic art therapist working with adults with learning disabilities and personality disorders. One of my patients continuously talks about animals and has began to make small 3D rabbits, to which she cuddles and talks to. I would like to be able to bring in a live animal into this secure setting, but I am not sure of the risk and hazards. Do you know what and where I should look for such guidance? Regards Gail
Gail McGregor
- 4-Feb-14 @ 8:39 AM