Sniffer & Police Dogs at Work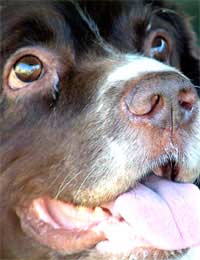 The work done by sniffer and police dogs covers several different, but equally demanding, tasks. In partnership with their handlers, these dogs can achieve results that machines are unable to. They can get the job done faster too!
What Sort of Dogs are Used?
The type of dog is matched to the type of work. People associate German Shepherd Dogs with police work, but they're not the only breed used (although they were the first to start as general purpose dogs because of their intelligence, bravery and stamina) Modern policing requires sensitivity, and a dog's nose is probably the most sensitive piece of equipment available! The nose of a trained sniffer dog is around 2000 times better than a human's; they are able to detect smells even 10 years later.
Springer Spaniels are one of the best recognised sniffer dogs actively used for the detection of explosives or illegal drugs, narcotics. Border collies, being of a similar size, are also used as sniffer dogs for operational work that includes working in confined spaces. Labradors are frequently seen on duty in public places to sniff for drugs without actually touching anyone. They are friendly dogs with an approachable presence.
Dobermanns, Weimeraners and German Pointers are also used in police work. Most dogs are bred for the job to ensure the supply of a sufficient stock of dogs from proven working bloodlines.
The Sniffer Dog's Work
Routine checks are made on containers, vehicles, baggage and people at our sea ports and airports. Where further investigation is deemed necessary, sniffer dogs are released by their handlers to carry out a more active search. The dogs know their job. They methodically cover every section of the area they're sent to explore. If a dog reacts to a certain area in the vessel, its handler alerts other officers to continue the investigation. The dog is rewarded and carries on working elsewhere once each job is finished.
Dogs are trained to detect specific smells above others but have the ability to identify, for example, firearms too. A sniffer dog that is trained to find drugs will seek smells related to illegal drugs but will respond if it picks up the scent of other known objects or substances. Even when illegal drugs have been deliberately covered with other strong smells, in an effort to disguise them, the dedicated working dog will not be distracted from his task.
Other work that sniffer dogs are used for includes bomb detection, looking for cash, people (search and rescue as well as suspects on the run) Cadaver dogs are trained to search for dead bodies in disaster areas and missing person investigations where it is thought relevant to do so. There have been cases where dogs have identified blood spots that were so small and had been covered by other substances, only a microscope could confirm that they were here. This could be enough. Although all working dogs must be obedient, they need to have the courage of their convictions too and persevere patiently when their handlers may show indecision. This is particularly relevant to search and rescue.
Recruitment and Training
Puppies are recruited from litters at around eight weeks of age but the overall selection of suitable dogs continues until they are 18 months old. Initial assessments are made on all dogs, followed by socialisation and basic obedience training between the ages of 12-18 months.
Selected dogs are introduced to their prospective handlers and there follows an intensive training period of 14 weeks. On successful completion, the Home Office issues a licence to each pair. Handlers may not swap dogs under operational circumstances.
Handlers will have served at least 2 years as police officers and preferably have previous dog handling experience. They also need to be physically fit. The dogs live with their handler and family, not only to strengthen their bond, but also for practical reasons. As a working unit, the dog and handler will be on call to assist other units when necessary.
Where necessary, dogs are equipped with protective clothing. If sent to chase a suspect, their training ensures that they will do what is required to stop the person until the dog is called off by its handler. These are controlled actions, not aggressive behaviours.
Dogs that work with handlers, whether as police dogs or sniffer dogs outside the forces, normally work until they are eight or nine years old. When their hard working life is finished most retired dogs continue to live with their handlers as family pets. The loyalty and devotion of these dogs does not go unrewarded.
You might also like...
Why are Dv there no answers! Sounds like a lot of cocker spaniel owners have the same issue and want to put their dogs to work! Namely mines! She is so food obsessed and always sniffing! She has abundant energy and I can't cope! She needs a job!
Missp
- 21-Jun-23 @ 12:23 AM
I have a 22 month old cocker spaniel x labrador with an incredibly strong scent ability and have been told by residential trainers that he would make a great sniffer dog. I am 73 years old and would like the best for my dog which I think would be work as a sniffer dog.
Sarah Mardon
- 7-Mar-23 @ 12:29 PM
I have 3 boys left in a litter of 10 ESS. Mum and dad both form strong pedigree lines and I have just been advised that my puppies would make good sniffer dogs How do I go about finding a handler and organising the training?
Emma
- 5-Mar-23 @ 3:14 PM
Hi I have an Amazing 2yr old springer spaniel (Frank) would love to give him his best life... Is there any way that I can get him some type of Job?
Louise
- 31-Aug-22 @ 10:45 AM
My mum has a 6 month old worker cocker spanial . Unfortunately my mum is 75 and she can not keep up with daily life with her ,she is so intelligent and has so much energy ,she also has her nose to the ground all the time . I have advised my mum that she would make a great police dog with training , can you advise me please
I was wondering if SYP are still looking for spaniels aged up to 2yrsas i have one that could make a good sniffer dog .
Julie
- 16-Sep-21 @ 8:29 PM
Hi I have a 2 1/2 year old cocker spaniel due to work commitments I'm having to rehome him ! He is a great wee dog full off beans but gd with commands wondering if this could be a new life for him or is he too old now ?
Bow
- 20-Jan-21 @ 11:19 AM
I have a 3 yr old cocker spaniel that would work all day for her tennis ball and if lost keep searching until found. She is a rescue dog and I love her to bits, but I am now suffering more bad health and I would love too see her grow to her best ability. She loves men so maybe she would work better for a man
Nellie Deen
- 31-Jul-19 @ 10:27 PM
Hi there I'm really interested in training my six months old cocker spaniel. In becoming a. Dection dog. He's definitely switched on. Very inquisitive
Hi there I'm really interested in training my 6 month old. Cocker spaniel to become a dection dog .is there any organisation that I could get in contact with. He's very much switched on.not afraid. Very inquisitive.
I have a 1year old springer spaniel. Now unfortunatly due to work commitments and being offered a promotion and splitting up with my partner is not getting enough time and attention she deserves. She is very playful, loves playing ball, interacts well with people,children and other animals and is a very friendly little girl. I am looking to rehome her but I would prefer for her to go to somewhere I know she will have the care and attention she deserves. If you are interested it would be great if you could contact me. Kind regards
Cod123
- 17-Feb-18 @ 9:33 AM
I have 8 month old springer spaniels dog. Because of heath reason I cant keep.Would he be ok as adrug dog if free.
Dan. The man
- 20-Nov-17 @ 12:26 PM
I'm looking to start training and workingwith my own drug detection dog to work in private housing and collages,schools and businesses, do I need any sort of licence or can I just train my own dog and when I think it's ready can I just start work? Thank-you
Malc
- 7-Sep-17 @ 11:41 PM
I have a 4 year old working cocker spaniel who would make a good sniffer dog.Who can I speak to about the possibility.
Caz
- 3-Oct-16 @ 10:00 AM
I am in year 8 ( 12 years old) and I want to do some work with police dogs. I live in harrow, England and my uncles' work with security dogs but I want to work with police dogs. Ant ideas? Plz I'm desperate.
As my subject for an attempt at the ARPS(associateship of the royal photographic society), I have chosen 'Humans and other animals' I am interested in photographing relationships between humans and animals. This is purely non commercial, I am not a professional photographer. However those organisations and individuals who allow me to take these pictures will have free access to any shots that they like or could use for their own purposes Dogs in special situations like yours would be of great interest. Can you help?
Tim
- 11-May-15 @ 5:38 PM
@Oli - I have included a National Careers Service link
here
which should tell you all you need to know on the subject and gives a Border Force website link at the bottom of the page for more information. I hope this helps.
CareerWithAnimals
- 20-Jan-15 @ 10:26 AM
Hey, I'm currently in year 2 of college studying and animal based course. I have now decided I want to work with dogs in the boarder control unit. Was wondering how I achieve this. Thankyou.
oli
- 19-Jan-15 @ 12:24 AM
What is the procedure in offering E S P puppies for police work, i.e who do you contact.
Wills
- 10-Feb-13 @ 12:09 AM
My daughter is in year 10 - she wants to do work experience with working dogs, how can she achieve this?
boothy71
- 11-Sep-12 @ 1:41 PM
I love dogs, they're great! I think its great that dogs are given a good, rewarding, useful purpose here and think it benefits the population greatly.
EddyMoles67
- 3-Apr-11 @ 5:21 PM