What's the Best Way to Become a Dog Trainer?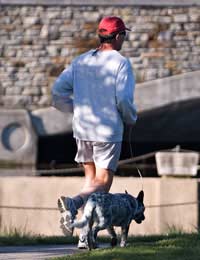 Q.I have an honours degree in animal behaviour but would like to know how to now become a dog trainer or behaviourist?
(Miss Stacey Reed, 1 June 2009)

A.
Hello and congratulations on your achievement of an Honours Degree in Animal Behaviour-a great start to any career with animals!The best way to become a dog trainer is the way that suits you and your circumstances. Think about why you want to be a dog trainer and what form of training interests you the most, then, pursue it.
You don't mention your age, location, experience or personal fitness, so I hope these general pointers will help you to find the direction you seek. Current personal circumstances will obviously influence which option is best for you, as will long-term career plans and required income.
It is advisable, but not compulsory, to hold membership of a relevant professional body, such as the Association of Pet Dog Trainers or the British Institute of Professional Dog Trainers, to enhance your career prospects. Most civilian, domestic, trainers are self-employed and must have appropriate insurance.
Depending on your personal circumstances and views, there are several ways you could approach this new direction. I recommend that you select what most appeals to you from the following and make contact:
RSPCA
National Search and Rescue Dog Association
Police/Armed Forces
HM Revenue and Customs
Guide Dogs for the Blind
Hearing Dogs for Deaf People
Kennel Club
Lantra
I am assuming that you have experience of working with dogs. If not, or your experience is limited, I would recommend that you spend as much time as possible with different breeds of dogs.Work as a volunteer at a dog rescue centre or RSPCA unit, as an observer/assistant with a local small animal veterinary surgeon/reputable dog trainer.
Look through magazines such as Dog World, Dogs Monthly and Teaching Dogs for training and career opportunities. Use any local contacts you have! A few telephone calls to trainers in your area may be time well spent. Check out the qualifications/experience and reputation of any trainers you choose to talk to first. (Whatever the reason for training, be it domestic pet, military duty or personal protection, all dog training should be based on kindness, patience, trust and the advancement of canine/human bonds in working relationships.)You may choose to study further in areas specific to dogs. For example, there are available certificate/diploma courses in Canine Behaviour and Psychology, Canine Behaviour Management and Canine First Aid. Hope this helps-good luck!
You might also like...