Working for a Dog Grooming Business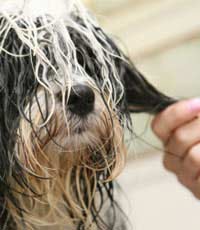 "We generally open at 9am-because I take the kids to school first-but if a client prefers to have an earlier appointment, then obviously we accommodate them. On Saturday mornings, for example, we usually have several half-hour slots for cats and start work earlier; that way the cats are not here at the same time as the dogs!"
Chris has worked as a professional dog groomer for seven years. No two days are the same-even if there is a whole day of one breed-because each dog is different and all owners have different ideas about how they want their dogs to look (though there are not many pink or blue rinsed poodles around these days...)
Daily Routine
"The first thing I do is switch on the computer, then check the answer-phone. All appointments and records are computerised so I look to see which dog is booked in first and prepare what is needed for that particular dog's treatment: clippers, blades, scissors, that sort of thing. If it's hot, the fans are turned on, if it's cold, the radiators are turned up. We use a combination boiler; so there's no problem with hot water. Mixer taps enable us to get the water temperature just right without having to worry about the animals getting too hot or cold."
The 'uniform' of many dog groomers is made with a tightly woven nylon fabric that keeps tickly, or irritating, dog hair from reaching places it shouldn't! Nylon is practical, comfortable, hard-wearing and easy to wash-which, when working with animals, is much more important than fashion statements.
A Dog's Day
"Today was a fairly typical day: first in was a Bichon Frise puppy that had a bath and classic puppy trim styling; next, a Cavalier King Charles Spaniel-whose owner comes in and stays for a chat while I bathe and trim the dog; then, a toy poodle that has tight clipping of the face and feet, with some fairly tight sculpting generally, next, a West Highland Terrier-who has been a regular for years and is quite at home here, followed by a Standard Schnauzer that needed hand-stripping, a bath and a trim."
New clients drop in with their dogs or cats to have a chat about their pets grooming needs. Chris assesses and advises, where appropriate, to make sure he has a clear idea of what the owner wants and that the pet in question will look its best."If a dog or cat needs a lot of de-matting before it can be bathed and styled, it can be something of a workout! Likewise, brushing a Standard Poodle can take an hour or more as the coat dries, and that's a lot of elbow grease..."
Use of Equipment
When a dog has been bathed, the first stage of drying is done with a high velocity dryer for larger dogs (nicknamed 'the blaster') so the animal is not dripping wet at any stage.Secondly, the squeaky-clean pet is towel dried around more sensitive areas-like the face and tail. Dryers are never used on these areas.
The third-and final-drying stage takes place when the dog is secure on the grooming table. A stand dryer, on wheels, is suitably positioned for use on each dog-as Chris brushes the pet's coat.
Hazards
Not every dog is keen to smell clean or look groomed and Chris has had a few bites and bruises on his hands over the years! "I did a course of evening classes in dog psychology because I wanted to understand more about their behaviour- and found it very interesting and useful. It helped me to gain a greater insight into the minds of animals I handle daily and their responses to conflict or stressful situations. It is important that the animals enjoy the experience."
Unruly dogs, human error, people holding scissors-potentially a combination for things to go wrong. Styling requires good concentration. The slightest twitch or sudden movement can result in a nick to the animal-so it is important to remain focused on the job in hand.
"When there are several of us working-on different dogs-we are all aware of the potential chaos that could be caused by a moment's lapse of attention. Some dogs need more space than others, some may be nervous, some over-confident; there may even be a bitch in season amongst it all! (More than once, Chris has informed the owners-who had not been aware.) The dogs are in our sight the whole time they are on the premises and so far there have been no escapees or unexpected litters!"
It's hard to recognise Harvey, a Shih-Tzu that arrived two hours ago looking like a demented gremlin. He trots out with the confident air of a dog that knows he looks the business.
You might also like...