Working on a Stud Farm: A Day in the Life of a Stud Groom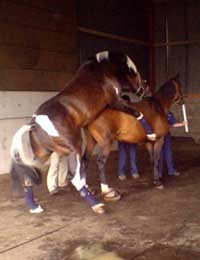 Ella loves her job; but the title sometimes prompts unwanted comments from would-be suitors…Poor taste in chat up lines aside, the role of Stud Groom is a challenging one that requires total dedication as well as a good sense of humour!
The sight of healthy foals and mares is one of the most satisfying for anyone involved in an equine stud career. For most of us it presents a cute picture postcard/calendar snapshot opportunity, with little awareness of the complexities behind that picture.
The Purpose of Equestrian Studs
A stringent breeding programme for thoroughbred horses is important to maintain and improve the bloodlines of top quality animals. Star-quality national and international sports horses, including racehorses, are not produced through indiscriminate breeding!
Racing Thoroughbred mares must be naturally 'covered' (mated) by a selected, licensed, stallion (not Artificially Inseminated.)
Stallions-Used to cover mares naturally and/or semen collection used for AI.Jump Mares-less financially valuable female horses that have had their ovaries removed. They are injected with hormones to make them more receptive to the stallion before ejaculation is diverted into an AV(Artificial Vagina) for semen collection.Teaser-male horse (often a rig or less valuable stallion) that may be used to assess mare's receptiveness prior to natural covering.
Stud Groom's Role
There are specialist procedures involved in the running of a successful stud. Ella is highly skilled, qualified and experienced in all aspects of horse care, stable and pasture management. She has good knowledge of equine breeding activities and bloodlines and is capable of using modern technology. When working in an AI (Artificial Insemination) centre immediate and continued access to equine records and compliance with import/export/transcontinental regulations is necessary.
Mares and Foals
Some of the mares that are brought to the stud for covering have foals at foot. One of Ella's many tasks is to handle the foals and take care of their welfare. This is of particular importance when the mares come into season and during covering. At this time, the foals are restrained in sight of, but a safe distance from, their dams (mother horses) to minimize stress and risk of injury.
Other work includes scanning of mares-in-foal.
Routine Testing
The records of oestrus cycles and previous coverings/inseminations/foaling history and swab/smear results for all mares are investigated before admission to any top stud.
Mares and stallions that are being considered for breeding purposes must be laboratory certificated as clean and disease-free. Artificial insemination procedures must also be carried out with cleanliness and hygiene as top priorities, not only for all the obvious reasons, but also because some equine diseases can be fatal.
Equine Herpes Virus 1 is a highly infectious viral disease that can induce abortion in pregnant mares. There is currently no effective drug treatment for this devastating problem. Preventive measures are paramount.
Contagious Equine Metritis is also highly infectious. It is a venereal disease that can be spread by direct transmission from an infected stallion/broodmare/teaser/AI.
Ella is sometimes called in to assist the equine vets with swabbing of mares (clitoral and endometrial) stallions (penile sheath and tip) and foals of 'high risk' or test-positive mares.
Working Day
A few of Ella's jobs are outlined above; but one of her favourite (and busiest) times is when mares come to the stud to foal.
"When a foaling is straightforward and both dam and foal are healthy, that is one of the most magical times! It can be distressing when there are complications or fatalities, but, as professionals, it's something we have to accept at times. After the mares 11 months' gestation and 24-hour surveillance in our foaling boxes that moment of birth never ceases to amaze me."
You might also like...